BALLOONS!
Impress your friends and family with a gift in one of our 18" biodegradable balloons.
PERSONALISED GIFT
Welcome to Boujee Balloons!
Are you looking for a gift that stands out from the rest? We offer a personalised and unique gifting experience that will be remembered for years to come. Located in the sunny Gold Coast, we offer delivery and pick up from our Elanora location.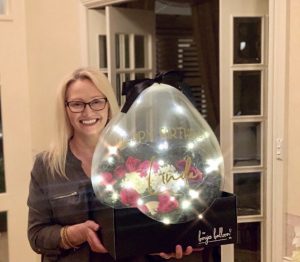 Choose from a selection of pre made packages, or build your very own boujee balloon. We have a range of products you can select from, to tailor your balloon to your theme and budget. Have you already bought a gift for the occasion, but want to display it in a fun boujee way? Select our 'build your own balloon' package, and tick the option to bring your own gift. We will be in contact with you for a time to drop off it off to us at our Elanora location.
If you truly want to make an impression with the people who help make your company a success, why not send it in a trendy environmentally sustainable way! Customise your gift with your company's own logo printed on the outside of the balloon for a personal touch. You can also add your own merchandise inside the balloon to make it that extra bit special. Start a conversation with us today, and find out how we could ensure your gift balloons exceed your every expectation.
We love our products, but we also love our planet. We use the highest quality latex balloons, which are 100% biodegradable. Boujee Balloons is a proud and active member of the Pro Environment Balloon Alliance (PEBA). For more information on latex balloons, please visit the PEBA website.
For order enquiries, corporate requests, collaborations or even if you just want to say hi, we would love to hear from you.
Email-  contact@boujeeballoons.com.au
Phone- 0433751184
Instagram- @boujeeballoons
Every month Boujee Balloons sends out a personalised gift filled balloon, (completely free) to someone in need! It might be someone who never treats themselves, is suffering an illness, working super hard, gives back to the community, or is just in need of a reminder that they are loved. Send us an email at contact@boujeeballoons.com.au and tell us who in your life needs a good deed balloon, and next month you could be spreading the joy. Please include your name and contact details in the email so we can get in touch and arrange your gift.